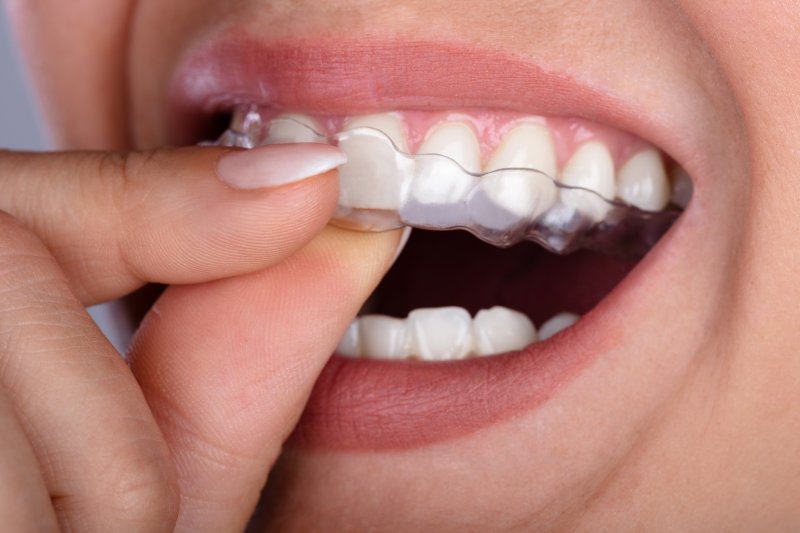 So, you've started using ClearCorrect aligners on your teeth. You likely feel excited – after all, your new treatment could straighten your smile quickly! That said, you must care for the trays if you want them to stay functional. You'll face treatment delays or oral issues otherwise. Luckily, your Jersey City dentist can help you on that front. To that end, here are four crucial ways to maintain your ClearCorrect trays over time.
Rinse Your Aligners After Every Removal
You might already know to remove your aligners for meals. (Eating while wearing them will cause problems.) However, were you aware that you should rinse them after each removal?
Indeed, it's best to rinse the trays anytime you take them off. Doing so keeps plaque and dried saliva from building up on their surfaces. The habit also eliminates debris so that the aligners look clean and clear. You wouldn't want to wear dirty trays on your teeth, right?
Clean the Trays Twice Daily
Besides regular rinses, aligners also need dedicated cleaning. Therefore, dentists recommend that you wash them up at least twice daily.
For each of these daily cleanses, only use approved products. These include cleaning solutions, retainer cleaner, and similar items. In contrast, don't employ regular toothpaste – it stains or damages the ClearCorrect material. Should such harm occur, the trays will become less effective and may need replacement.
Brush & Floss Before Each Wear
With the aligners rinsed and cleaned, you may think they're ready to be reinserted. Well, think again! Before they return to your mouth, you should brush and floss your teeth first.
Remember, your mouth houses lots of oral bacteria. As such, failing to clean it before wearing aligners will trap plaque on your teeth and gums. You'd then be at risk of developing cavities or gum disease, which would delay your ClearCorrect journey.
Don't Leave the Trays in the Open
Even if you're in a rush, store your aligners when you aren't wearing them. Not doing so exposes them to bacteria that build up with time. Furthermore, the trays will likely get lost or damaged.
As for how to store aligners, that's a simple matter. Just keep your carrying case with you at all times. That way, you can place the trays in it when necessary. Should you forget and leave them out for a few hours, soak and rinse them before setting them back in your mouth.
Since ClearCorrect aligners offer a gorgeously-straight grin, make sure they do by using the tips above!
About the Practice
AV Dental Associates is based in Jersey City, NJ. Led by Drs. Vahid and Yoo, our practice strives for high-quality dentistry in a relaxing environment. To that end, we perform preventive, cosmetic, and restorative treatments, as well as emergency dental procedures. Furthermore, our team prides itself on being a certified provider of ClearCorrect clear aligners! For more information or to book a visit, you can reach us on our website or by phone at (701)-237-3583.